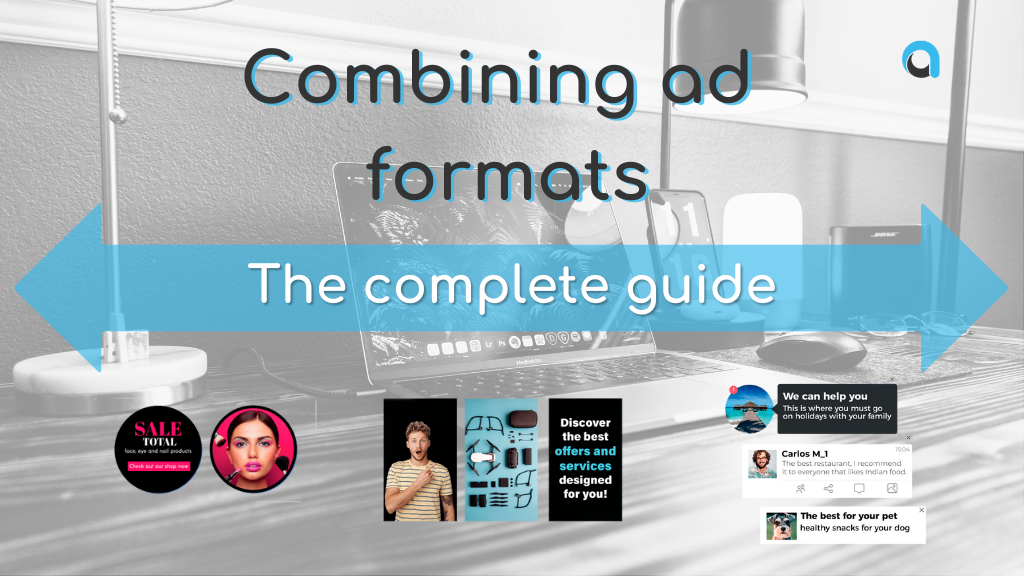 Choosing the best ad format for your business is a critical part of creating a strong monetization strategy, and combining different types gathers even more attention.
But why should you combine ad formats? Well, there are a few reasons:
The more ads you activate at a time, the more possibilities of earning more revenue. Simple as that.
Increase user engagement: more ads require more user interaction, boosting your chances of receiving clicks.
Have a more dynamic page: combining different ads can guarantee more clicks, without saturating the user. Have them blend seamlessly and cohesively with your content.
Examples of ad format combination
Now that you know some of the advantages of combining formats, it's time to study some combinations that work particularly well. Before starting, don't forget to take into account the device from which your audience is going to access your blog or website.
Mobile phones and tablets
For mobile devices, we recommend the following combinations:
Push notifications + Interstitials: Interstitials are catchy and generate an immediate response, since they fill the screen before letting users access the website. Meanwhile, push notifications are discreet but powerful, they don't interrupt user experience but guarantee engagement, since users have to either authorize notifications or dismiss the ad. 
Smartlinks + In-Page push: Smartlinks don't disrupt the user experience in your blog or website, while in-page push notifications offer a constant reminder, without being invasive, which makes this combo a very user-friendly experience.
Rich media (casket & tripod skins) + Interstitials: Adport's rich media ads are dynamic formats only available for mobile devices that generate a lot of views and engagement. On the other hand, interstitial ads have immediate impact, and ensured interaction. This makes for one of the most eye-catching and engaging combinations.
Desktops
When it comes to desktops, these are our recommended combos:
Pop ads + In-page push ads: Pops and in-pages are two very dynamic formats which draw lots of attention without interrupting user experience. The combination results in a great way to monetize your blog or website without bothering users.
Interstitial + Push notifications: Interstitial ads have maximum effectiveness at grabbing all the user's attention, while push notifications are more discreet and subtle. The combination of these two formats offers the perfect balance.
Push notifications + In-Page push ads: Push notifications and in-pages are two very subtle and complimentary ad formats, since they are very similar. Together you ensure that the user will receive notifications when navigating your website and once they leave it. 
These are just some ways to combine ad formats, as the possibilities are as endless as your creativity to merge them. Even so, if you need any help or any recommendations, don't hesitate to contact our Support Team.