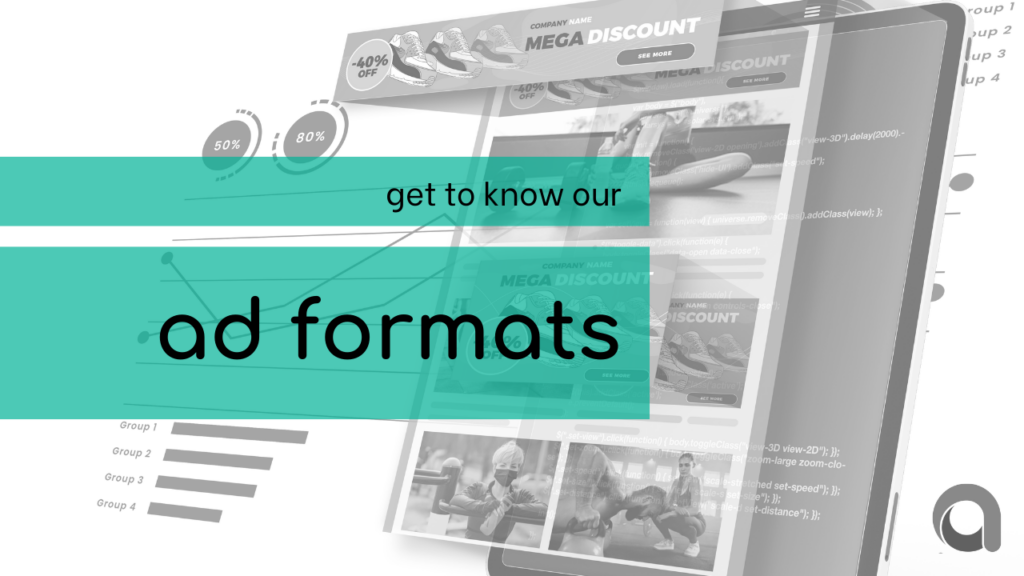 At Adport, we're all about creative advertising. There's so much content and advertising out there that you have to think outside the box if you want to stand out.
That's why we offer six different ad formats: push notifications, in-page push notifications, pop-unders, smartlinks, interstitials and rich media. Some of them are almost completely customizable!
If you're curious to try them out, in this post we'll detail how each of them work and how to pick the best one for you.
Creative advertising made easy
Innovating might seem like a difficult thing to do, or at least a time consuming one. That's why at Adport our goal is to offer you creative advertising and monetization solutions, saving you time and helping you to make more money.
That's why, before we get started, we want to remind you that registering at Adport is free, our onboarding process is quick and simple, and our platform is super intuitive.
Check out our tutorials on how to get started and add ad units! They're available in our blog and our YouTube channel!
Our ad formats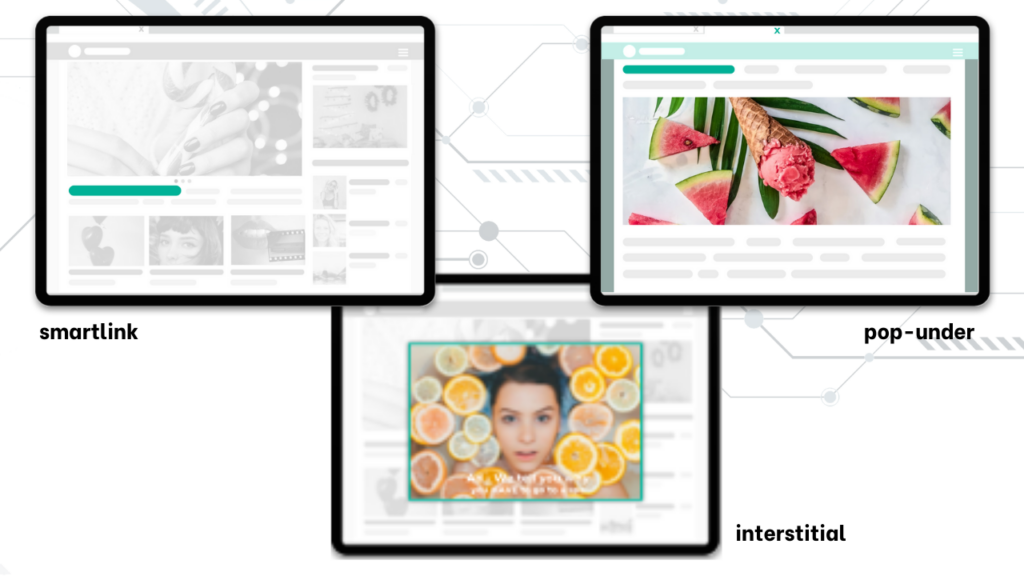 We can separate our ad formats into two types: aggressive formats and soft formats. Let's look into them.
As for our aggressive formats we have:
Pop-unders or onclicks: These are full screen ads that show up on an entirely new tab when the user clicks on an object in the website. They provide massive reach and, therefore, are a top revenue generator with 100% fill at all times.
Smartlinks: These ads can be placed anywhere in your site, on an image, on texts, hidden behind a button. When clicked on, they automatically redirect the user to the best offer, based on the traffic you drive. Try combining it with other formats.
Interstitials: Overlay ad spots that cover either a part or completely the interface of a web. They are a great monetization alternative, since, being full-screen, they capture the user's attention and the user is obligated to interact with the ad, either closing it to continue browsing the site, or clicking on it to land on the ad. As a result, interstitials provide very high CTRs.
When it comes to softer formats, we have:
Push notifications: The typical clickable message that appears to the user asking if they want to receive browser notifications. This is, for sure, one of the best formats for monetization, due to user's prior consent, which generates one of the highest CTRs.
In-page push notifications: These ads are the same as push notifications, visually. Except, in this case, the notifications appear without need for user prior consent while they are browsing your website, appearing along your content. For that reason, they are very engaging and user-friendly.
Rich Media: Dynamic display ads, available only for mobile, that appear and stay fixed on your website until interacted with. This is the best option to connect with your audience and encourage engagement.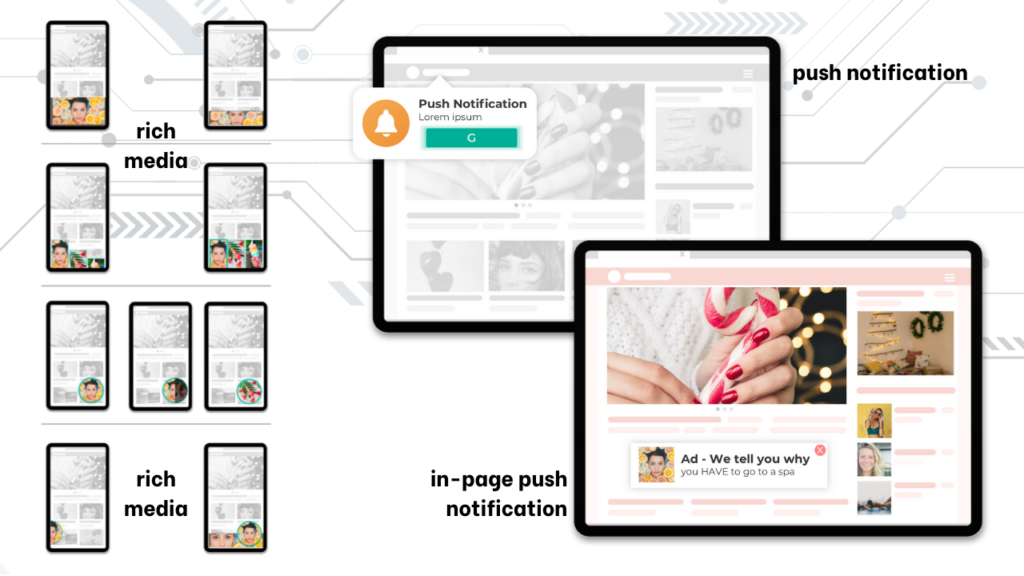 Customizable formats
At Adport, we know how important it is to blend advertisements with content. That's why customization plays a crucial role in creative advertising. Customizing your ads will increase engagement and lead to better results.
From the six ad formats we offer, you can customize:
In-page push notifications: We offer you three skins to try out – classic, social and chat. The classic skin is clean and simple, the chat skin resembles a chat notification and the social resembles a social media notification, but all three have the same basic elements: an image, a title and a short description.
Rich Media: Choose between one of our four rich media displays. The casket display is an ad image that expands from the bottom of the page and collapses to stay fixed there until interacted with. The puncher display is made out of two images that appear and stay fixed. The spinner display is a small rotating ad that appears at the bottom right side of the page, and spins showing two images like the two sides of a coin. Finally, the tripod display, as the name suggests, shows three images that also stay fixed at the bottom of the site until interacted with.
Interstitial: Pick between our classic interstitial – a simple overlay image -, or our scratch interstitial – an image that can be "scratched" to reveal a second image underneath.
Register today at Adport.io and try them all out!