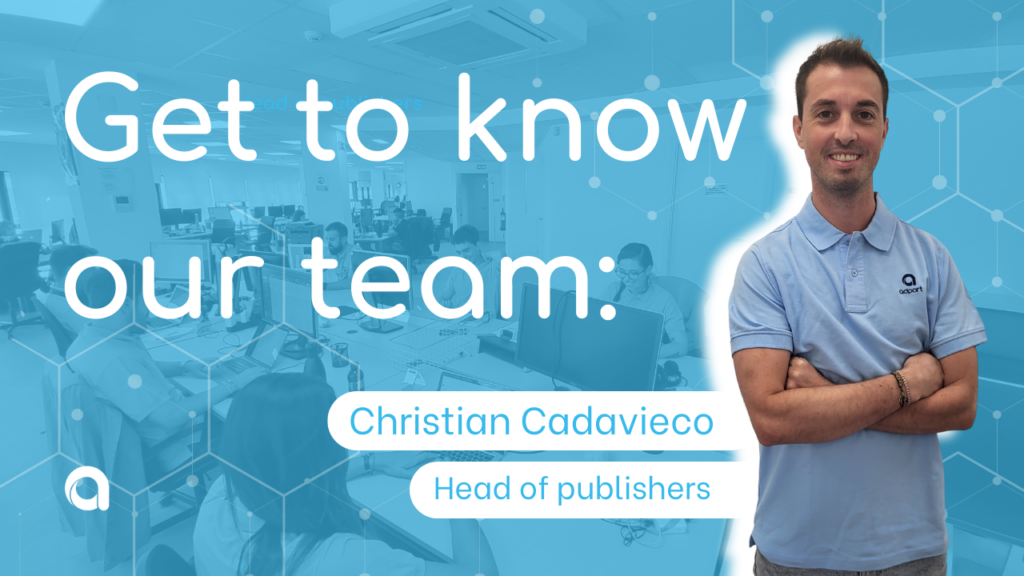 At Adport, it's important to us that you get to know our team. That's why we've decided to publish a series of interviews with those who make everything possible!
We'll start with our very own Head of Publishers, Christian Cadavieco. Christian has been in Adport since the beginning. Before that, he had been in Kimia Group, our mother company, for nearly seven years, passing through other important sister companies like ArmorAds. He embraced the challenge of being Head of Publishers when he got offered the position over a year ago.
"When Adport was created, a new platform for publishers had to be developed. I knew it was going to be an important part of the company, so when they offered it to me, I took it. It was challenging and exciting, because it meant a constant learning process – which is also one of the things I like most about working at Adport, I think", he details.
Check out the complete interview below:
So how did Adport become what it is today?
We started working only with push notifications for advertisers, but we put a lot of work into it and developed a platform for publishers, added lots of new formats… to the point that, today, Adport gives you solutions whether you are a publisher (webmaster or blogger), or an advertiser. You can buy different types of traffic, direct or even third party. There are multiple possibilities that you can mix and match however you want.
I think one of the things that enabled this is that we've always been a small team with lots of expertise, so we help each other out. We always have fresh sets of eyes that we can rely on, collaborating together and keeping a constructive mentality. I do that a lot with Jaime [Bracons, Head of advertisers] and the rest of the team until this day. I constantly ask for their opinion and brainstorm ideas, so we're continually improving and thinking of new possibilities.
In what way does Adport stand out from other ad networks?
The platform we've created is the result of all of our industry experience combined and poured into this project. All the time we spent specializing in traffic sales and acquisition, and advertising is inside of our platform.
Also, besides being an operative platform, Adport is also very technical and analytical. You have more technical options that other platforms don't offer, you can analyze all of your results from within. And, not only that, typically, when an ad network designs and provides a platform, they create their rules, which you have to obey if you want to use it. Not at Adport. We've created the platform for the users, for them to use it however they want.
If you have knowledge in our sector, you can see that. With Adport's platform, you can do more and have a wider range of choices, ultimately. From how you want to treat your data to what kind of traffic you want to buy.
So why should publishers choose Adport?
First of all because it's an easy-to-use platform, even though, on our side, it's very complex, technically speaking. Again, for the users, however, it's a very simple integration. Secondly, from a data and statistics point of view, it's very visual. You can easily see everything you're doing, all the results.
Finally, we consider ourselves to be an open door. When we talk about monetization, oftentimes we think about Google, but they're only interested in bigger fish. We're not Google, obviously, but even smaller bloggers and webmasters can make money. To us, it doesn't matter how many visits you get in a day or if your traffic is of top quality, we focus more on how much and how well you want to monetize every single visitor.
So given all the facilities we offer, for free, Adport is a very interesting alternative source of monetization.
What would be your long-term goal for publishers at Adport?
First of all, add new ad formats – which is something we're already working on and will have available in the near future. But, ultimately, I would like for Adport to become a reference for direct publishers as an alternative ad network.
If you're a publisher, register today here. In case you wish to speak directly to Christian, drop him an email at [email protected] .