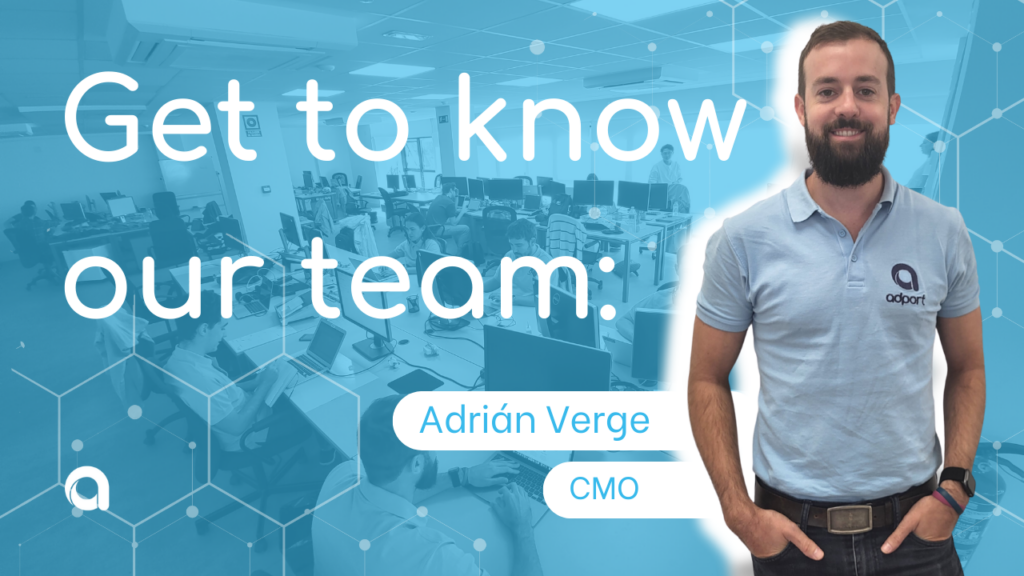 At Adport, it's important to us that you get to know our team. That's why we've decided to publish a series of interviews with those who make everything possible! 
We've already interviewed Christian Cadavieco, Head of Publishers, and Jaime Bracons, Head of Advertisers. Check their interviews here and here. Today we're interviewing Adport's CMO, Adrián Verge. 
Like the rest of the team, Adrián has been in Adport from day one, but already had eight years of in-house experience as ArmorAds' Managing Director – one of our sister companies, also part of Kimia Group.
"We started, not so long ago, as an exclusively push notification company. We poured all of our combined expertise into Adport, grew fast and kept working to expand our platform and our reach, in a creative way, with a motivated team. To me, Adport is the best. [laughs] But, truthfully, it just keeps getting better and better, so when I say that people should join our platform I mean it not just because of what we offer now, but because of what is still yet to come", he highlighted.
Check out the complete interview below:
So what would you say were the keys to Adport's fast growth?
For one, our in-house technology, that allowed us to upscale our business. And also, when we first started, push notifications were very attractive to advertisers, because they allowed more aggressive and creative advertising, being an alternative to banners and pops – which led to us generating our own subscriber base. So I would say those two things, our technology and offering an interesting ad format.
Although now there are many more ad formats, would you say those are still what set Adport apart from other ad networks?
Obviously not every company can have their own technology, so they have to use outsourced platforms, which limits their growth. So that does work in our favor, but it's true that the big, known companies have their own tech.
So I think what sets us apart is our knowledge on new ad formats, our combined years of experience working with direct advertisers, having our own media buying teams and understanding how traffic works from a security, anti-fraud point of view. All that knowledge and experience was a part of Adport from day one.
Since you've mentioned it, what is the Adport team like?
It's a small, yet mature team. Practically everyone has many years of experience in our area, and within our mother company. So we always knew that if we brought all those people together and gave them a good platform, they would be able to operate it quickly and without needing a huge team. 
But it's true that as we grow, and set goals, we need a bigger team. We actually have a few openings right now and we just welcomed two brand new additions to our team.
What motivates that team – and you, specifically?
Adport's future. Like I said, we started as a push notification company that grew very quickly, that in itself motivates us. Improving the platform, adding new ad formats, helping publishers and advertisers… 
We come up with new projects for Adport, we see them come to be, mature, reach their maximum potential and then we know we can, and have to, move on, forward, to the next project, find new options and solutions to do it all over again. That's the fun part.
So what is the next new thing for Adport?
Right now I can't reveal much but there are lots of exciting things coming up. Let's just say that what is coming up is related to narrowing the gap that exists between publishers who want to make money out of their web pages and advertisers who strive to reach their audience. 
So new ad formats, more efficient technology, business deals, covering new markets, being more present in more countries. That's where Adport is headed, but always with our technology at the core of our growth.
Also, we have quite a few events coming up, which also really excite us.
What events are those, what do you wish would come out of them?
As of right now, what I can confirm is that we're going to AW Asia, in Bangkok [November 30th], and to ClickBid's Meet Up, also in Bangkok, [November 29th]. 
In Adport, and in Kimia Group in general, we always thought that we shouldn't blindly follow the industry. Instead, we want to be a part of it to be one of the many agents that transforms it. And those transformations, or ideas to transform, appear during events. 
And there are always a lot of important people who also attend them, we seal deals there, those who use our platform but don't know us yet get to meet us, we get to show new people what we do, see what they're doing… ultimately have a glimpse of the future of online marketing.
Is that what you expect from AW Asia?
Well, this is the first time Adport is attending as a multi-format platform. Last time we went we were still only doing push notifications. So the goal is for publishers to get to know us, to show them our platform, how intuitive it is, all of its monetization options. And also to get to know advertisers who wish to reach their audiences in a more creative, original way.
If you're a publisher, register here. If you're an advertiser, here. And, if you wish to speak directly to our CMO, write an email to [email protected] .